About
Complete Quality Care is an agency that provides 24-hour, all-year care to people in their own homes in Bideford, Barnstaple and the surrounding areas of Devon.
We have qualified and experienced staff to support a wide client base from children to elderly. We also have trained staff to work with clients with learning disabilities and mental health issues.
We support our individuals in their own home to enable our clients to live their life to the full potential and in the comfort of their own home.
We also provide care staff to established care homes to cover holidays & sickness
Our Staff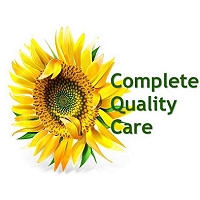 Complete Quality Care is managed by Kelly Cameron,the registered manager and director
Our standards are maintained with our high quality adminstration staff who are here to take your problems and solve them for you, no matter how short the notice or how difficult the problem.
The Criminal Records Bureau (CRB) and the Independent Safeguarding Authority (ISA) have merged to become the Disclosure and Barring Service (DBS). CRB checks are now called DBS checks.
All our staff our DBS checked at the enhanced level fulfilling the requirements of the CQC (Care Quality Commission). In addition all employment history is verified and proof of identity checked against passport, driving license, birth and marriage certificates.
All our staff are regularly monitored and assessed. They undergo regular training, supervision, updates, reviews and assessments throughout their work as required by the Essential Standards of Quality and Safety/Health and Social Care Act of 2008.


Northern Devon Healthcare NHS Trust is the prime provider for personal care across northern and mid Devon and works with local providers such as Complete Quality Care to organise care. The name of this service is Devon Cares.
Devon Cares acts as a bridge between health and social care, bringing together the NHS and local providers in a new way.
The providers who work with Devon Cares such as Complete Quality Care across northern and mid Devon are all committed to continually improving the experience of care and to deliver high quality care to support health, wellbeing and independence.
Complete Quality Care is proud to be a tier 2 provider in Zones 1 & 2. For more information click on the Devon Cares Logo above.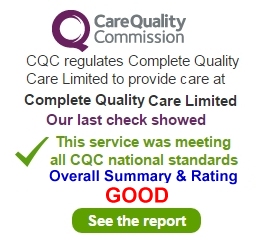 Registered Childcare Provider
We are a Care Quality Commission registered childcare provider
We try to provide children with the same staff member to promote a structured and confident working relationship.
We have staff who are specialised in working with children with emotional and behavioural difficulties.

You May Qualify for Funding

If you need care in your own home you may be eligible to receive payments from either social services or the Independent Living Fund. Find out more by following this link: